At Matchsaver we have one of the finest cricket pitch covers on the market, aimed at protecting your pitch all year round no matter what the season, or size of cricket club. Whether it's natural grass or synthetic, training ground or stadium, you can be certain we have a product suitable for the cause. Our covers are installed in Grass Roots Cricket Clubs, County Cricket Clubs and many of Europe's most well-known stadiums including Juventus, Chelsea FC, Real Madrid and Torino, and are widely regarded as the most effective covers in Europe.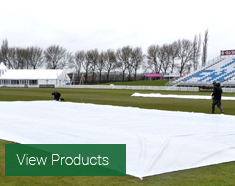 Cricket is generally played on a grass pitch as opposed to synthetic surfaces, which was taken into account when developing our Matchsaver Match Pro 70, the ultimate all-in-one cricket pitch cover. It's made from extremely durable multilayer reinforced waterproof fabric and designed to allow 70% light transmission for grass germination. Without germination the grass is susceptible to disease and may struggle to grow in certain conditions. During games the grass can become damaged and without regrowth grounds-staff may need to re-seed the pitch from scratch which is a costly inconvenient. Our cricket pitch covers will defend the surface while allowing the grass to thrive.
As the material is tough and hard wearing it will last for many years to come. Throughout the development process we extensively test all of our products to make sure that they are of the highest standard. Cricket covers by Matchsaver are available in simple pull-on varieties or as part of an air roller system (ARS) to help with deployment.
Our cricket pitch covers are one of the most popular products in the Matchsaver range. To learn more about our services or if you have any questions, please contact us for more details by calling +44 (0)1642 718945. Alternatively, you can email us with any questions to enquiries@matchsaver.com and we will get back to you.